There's something tentative in the songs on Hey Love, a searching instead of a summing up. There's also a comfort in being in some kind of uncomfortable place. Whether it's where love seems to have expired – as in the opening Hearts Just Beat – or a place where connection is troubled (almost every song): there's a sort of reaching or stepping out. Along with the discomfort is a tune or a phrase that makes the effort feel good. Someone complains that 'if it's not one thing it is another, these sure are troubled times' – to a beat that says nothing but dance.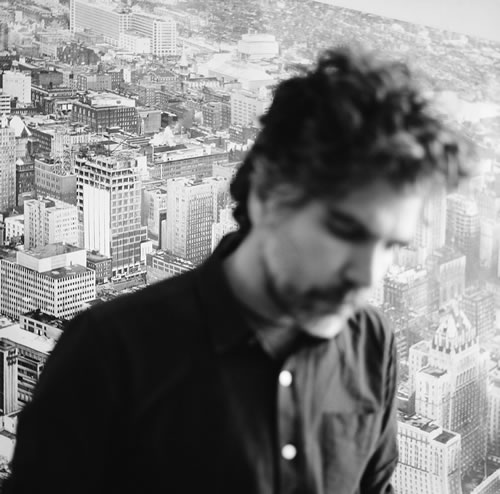 Photo: Vanessa Heins
Honesty and melody aren't often found together in life. It's hard to say 'I don't want to feel loved, I don't want to be loved' in a way that makes your partner want to hum along.
I came to Hayden's music late – at the release of 2013's Us Alone – and I have since been going back through two decades of songs over many late nights, not only when I'm looking for intelligent pop or a tune to make my heart warm, but also when I want some company as a father, as a writer, as someone who loves both darkness and our efforts to find light.
I was caught right away by a sense in Hayden's songs that they were born of lived experience. He sings of living for his music, how much and how little music can mean in the face of life. Music is 'almost everything', and it would be nothing without the people who are close to him.
I've been taken by songs like Old Dreams and Don't Get Down, that speak to me of what it means to live creative days – how important art can be, and also how empty the culture around it is when you lose sight of why you create. Whether you're at a loss in music, novel writing or life, what better advice can you hear than to look for "something that will make you feel like every day's too short"?
There's a moment for our bodies that feels like mid-September, leaves still on the trees, you and your friends on one side or the other of the peak of your potential. There might be promise still ahead, but a chill is in the air. It can be the best time to appreciate beauty and a hard time to stay strong.
Hayden's latest album Hey Love is set in that time of life. When I first listened to it I thought of his 2008 song Where and When, the lover outside the window calling for his girl to come and join him. In Hey Love he is now inside the house with her – there are kids and not many chances to talk. He knows he wants to be here but he's not sure how it happened.
I love this new album. I can't imagine not standing up when I hear Nowhere You Cannot Go, and I can't swallow my heart when I picture a beautiful wordless daughter listening to No Happy Birthday. There's also regret in these songs, a bit of drear and heavy-liddedness, talk of time slipping away and the next generation coming up. But one thing I love about Hayden's music is that there is never bitterness or judgment, just a recognition that all of it is part of the struggle.
And the struggle is necessary, inevitable, and beautiful. These songs are about resilience.
Hayden has always made music on his own terms. His studio, his sounds. Maybe he simplifies drums to his detriment. Maybe things would be different with a swell here, some bigger strings, a shying away from darkness or an effort to be less shy. Maybe he would find a wider embrace or a less cautious culture on the radio. Maybe he is honest to a fault.
But what Hayden's music tells me is the world is made of aching individuals and many of our lives are familiar. We carry on, we yearn, we hope for five seasons, we make things along the way. We try, and we forget the people we're trying to be, because we're trying. Whether in his words or just in the honest spirit of his songs as a whole, Hayden honours our attempts. I hope this album is just the middle of it all.
— Colin McAdam
A press kit containing a biography, press photos and hi-res album art is accessible here (courtesy of Arts & Crafts).
Click here to subscribe to the mailing list. Click here to unsubscribe.