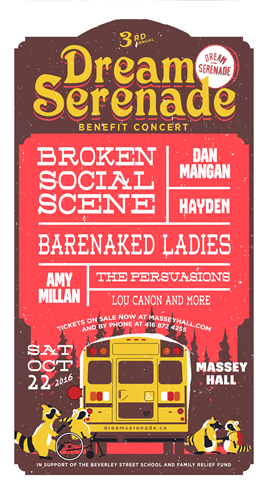 We're very excited to announce the third annual Dream Serenade benefit concert on October 22, 2016 at Toronto's Massey Hall. Those of you who have generously supported us over the last couple of years know how special this night has become: artists like Feist, Matt and Aaron from The National, Bahamas, Serena Ryder, Barenaked Ladies, Billy Talent, Joel Plaskett and many others have generously volunteered their time and talents to perform intimate and inspiring performances on the stage of the legendary Massey Hall. Over $125,000 has been raised towards schools and services for children with developmental and / or physical disabilities, a new playground is underway for the students of Beverley Street School, a Family Relief Fund offering respite services is now active and last year we were able to award $20,000 to Toronto's George Webster Elementary School for upgrades to their classrooms.
This annual concert is not just a way to contribute much needed funding to those that need it most within this community, but it's an evening that celebrates the tireless work that teachers, parents and caregivers provide year round to children in our city, without the applause. This year, Broken Social Scene, Dan Mangan, Amy Millan (of Stars), Barenaked Ladies, The Persuasions, Lou Canon and more will help give us another unforgettable night. We hope you will join us.
Dream Serenade has become much more than its beginnings as a way to raise funds for our daughter's incredible school. It's now a very important part of our lives and a perfect way to celebrate a community of inspiring people.
— Hayden Desser & Christie Greyerbiehl (co-presenters)
Tickets for Dream Serenade ranging from $25-$100 can be purchased at the Massey Hall box office, by phone at 416-872-4255 or online at masseyhall.com
Online donations to Dream Serenade are accepted year round at CanadaHelps.org. All donations will receive a charitable tax receipt.
More information is available at dreamserenade.ca