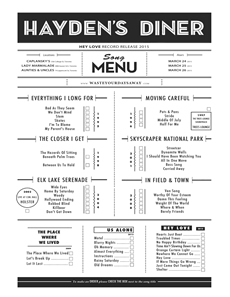 Update (Mar 25): Thank you to everyone that came out to Caplansky's on March 24. Unfortunately, a case of the flu has caused the remainder of the diner shows to be postponed. The Lady Marmalade show will now be April 1 and the Aunties & Uncles show will now be April 2. All guest list names will be honored for the same shows. Thank you for your understanding.
---
Let's ask for the cheque, and leave this place before we're wrecked
Let's spill our drinks onto this map, and where the ice melts we will unpack
Hayden invites you to celebrate the release of his eighth LP, Hey Love, as he takes over some beloved greasy spoons in the city with a series of diner shows throughout the week of release. Each night will feature a unique set list of songs from Hayden's catalogue, old and new, as ordered up by the audience from the "menu" at each show.
Limited guest list spots to join us for these evenings will be accessible to fans through contesting on social media pages for Hayden and Arts & Crafts, as well as giveaways through select media partners, local record shops and the diners themselves. Links to those pages can be found below.
Hayden's Diner
March 24 9pm at Caplansky's, 356 College St. (Full band)
March 25 7pm at Lady Marmalade, 898 Queen St. East (Hayden solo)
March 26 7pm at Aunties & Uncles, 74 Lippincott St. (Hayden solo)
For your chance to be added to the guest list for one of the Diner shows, follow Hayden on Instagram, Facebook and Twitter; and follow Arts & Crafts on Facebook and Twitter.