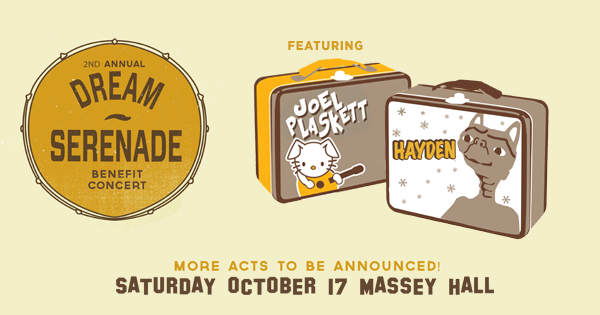 Dream Serenade will return to Massey Hall this year on October 17, 2015 for its second year supporting services for children with developmental disabilities and their caregivers. Last year's inaugural event featured performances from Feist, Matt Berninger and Aaron Dessner of The National, Barenaked Ladies, Billy Talent, Sarah Harmer, Jason Collett, Grey Lands (Wayne Petti), Lou Canon, and Hayden himself.
This year's event will continue in the tradition of unique collaborations and performances presented by Hayden and his wife Christie. Today, we announce the first wave of performers with Hayden and Joel Plaskett.
"Last year's Dream Serenade was such a remarkable event. It brought together the parents, families & caregivers of children with physical and / or developmental disabilities, their teachers and school staff and the broader community in celebration and awareness. With voices and sounds, we shook the walls of the legendary Massey Hall. No one left the building unmoved by the talent on stage, the images on screen, the generosity, and the spirit of the occasion.
Last year we raised over $100,000 with proceeds currently working towards the completion of a new green playground at Beverley St School with plans approved and groundbreaking this Spring! A respite fund for caregivers has also been established with applications available this September.
It is with great pleasure that we announce the 2nd annual Dream Serenade. This year's money raised will continue to benefit Toronto's Beverley Street School and the Family Relief Fund for caregivers, as well as an additional special needs school within the Toronto District School Board to be determined through an online video application process.
We hope you'll join us this Saturday, October 17th. Please stay posted as we announce more incredible artists who will be performing." -H & C
Tickets are on sale now through the Massey Hall website at www.masseyhall.com or at the Massey Box Office by phone at 416-872-4255.
More information can be found at www.dreamserenade.ca.