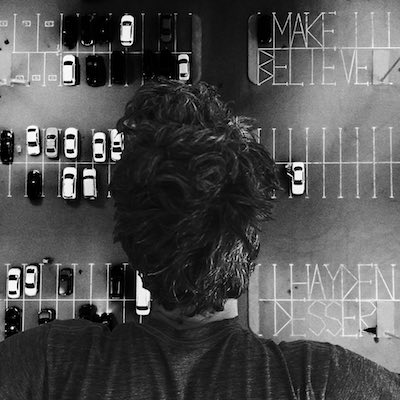 "Make Believe" is a new song I wrote with my friend, novelist Colin McAdam. Over the last couple of years, Colin would send me chapters as he wrote and I would send him back music based on his ideas. Titled Black Dove, the book will appear in Fall 2021. "Make Believe" is about finding the beauty in truth, its bruised melody also acknowledging that as much as we need to stay on the ground and be honest, we will always make things up.
You'll notice this new song is released under my full name, Hayden Desser. Please follow this full name on your favourite streaming service to keep up with new music. The song is available now on all streaming and digital services.
Like many of us lately, I've been confined to small spaces. I made the video by hanging my nephew's green picnic blanket on the wall next to my dining table, conjuring images of cities and trees out of nowhere. It's about the heartache we feel and the magic we crave, living in the real world and wanting to fly above it.
You can watch the video for "Make Believe" here.
Thanks for listening.
Stay well,
xo H